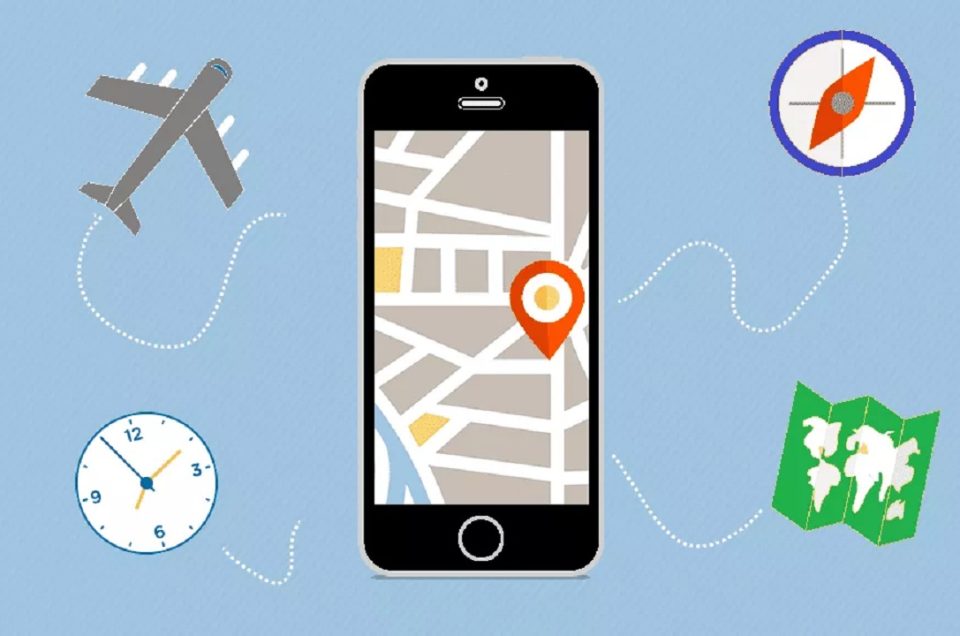 The rise of technology in the current age has changed the lifestyle of human beings. These days no one goes out of their house without their smartphones which is a pretty handy device. The easy connectivity to the internet has made the world a small place. There was a time when people were suggested to go on group trips to have company. These days people are more inclined to take solo trips and even women and girls are daring to do so. One of the main reasons behind this has to be the apps and services that are currently available. These applications can do everything from booking a hotel to displaying the right route. So, here we will mention some of the best apps for solo travelers apps. 
1) Google Maps – Best for offline navigation
When you're travelling alone, it's important to know where you're going and how you're going to get there. And, especially when you're on the road, your internet connection isn't always reliable. That's when the offline maps on Google Maps (or alternatives like Maps.me) come in handy.
2) Google Translate – Best for language translation
Google Translate may be helpful for lazy students looking to cheat their way out of Spanish class, but it's helpful for travelers heading to places where they don't speak the language, too.
The app supports 103 languages for basic text translation and 59 languages for offline text translation. What really comes in handy when you're traveling, though, is the instant camera and conversation translation features. Point your camera at a sign, and the app will detect and translate the text for you as long as it's within the 90 languages it supports. Speaking to a taxi driver or an Airbnb host? Use the bilingual conversation feature to communicate with them on the fly; it supports 43 languages.
The app is free with no strings attached. So just download it, and you're ready to go.
3) Wifi Finder + Map – Best for internet connectivity
We could be recommending a number of messaging apps you already know about here, but what you really need is internet access. Sure, apps like Whatsapp, Facebook Messenger, iMessage, FaceTime, and WeChat can connect you with friends and family abroad for free; but they're all useless without the internet. Wifi Finder + Map, which draws information from a crowdsourced database about Wifi locations and speed, can help solve that problem.
As soon as you open the app, you'll see all the WiFi spots near you. They come with labels based on their locations — hotel, cafe, restaurant, bars, etc. — which you can use to filter through based on your needs. What differentiates this app from other WiFi locators, though, is the fact that it shows you how quickly each network responds to what you're trying to do — e-mailing, web browsing, gaming, streaming, or video chatting. To access and use the finder without internet though, you'll have to purchase a subscription for $7.99 a year or $4.49 for three months.
4) Hopper – Best for tracks flight prices
Hopper is an app you definitely want to use while you're planning a trip and before you buy any tickets. The mobile-only app tracks flight prices and gives you clear advice on the best time to buy—including through notifications when the price drops. What makes this travel app valuable is its level of detail. It doesn't just tell you to wait to buy your ticket, but gives you a date when the price will likely rise. You can book through Hopper, too, with a commission fee of a few dollars.
5) TripIt – Best for trip organization
TripIt is similar to TripCase in creating an organized itinerary for you, but TripIt builds your travel plans by sniffing out confirmation emails in your inbox and pulling out the most important information. If you don't want to give TripIt access to your email, you can use the app by forwarding emails to it instead or manually entering details, but that's not the point of the app. If you are disorganized and haphazard with your travel details, TripIt might do you a lot of good.
6) Booking.com – Best for Booking
Booking.com is a site for booking accommodations, flights, car rentals, airport taxis, tours, and attractions. It's best known for helping you find great hotel rooms around the world that fit all your needs at the right price. Booking.com is part of Booking Holdings, Inc., which also owns Kayak, Priceline.com, Agoda.com, Rentalcars.com, and Opentable.com, so you may notice some similarities among these services.
7) Lonely Planet– Best for travel guide book
Lonely Planet, known as a publisher of travel guidebooks, also has a great website and app where you can explore your next travel destination. You can expect gorgeous photos alongside these recommendations for an inspiring experience.
8) AllTrails – Best for outdoor activities
AllTrails is a mobile app and website that helps you get outdoors. It has lists of trails for hiking and walking around the world with pictures, maps, and directions to trailheads. You can download trail maps offline if you sign up for the Pro version of the service for $29.99 per year. It's a great resource for quickly finding the best places to be outside when you're in an unfamiliar area.
9) Convertr+ – Best for converting currencies
The free Convertr+ app is fantastic for converting currencies. It has a clear interface and lets you save multiple currencies in one view. Convertr+ offers other types of conversions that travelers sometimes need too, such as Celsius to Fahrenheit, kilometers to miles, liters to ounces, and vice versa.
10) Uber– Best for instant transport
Uber operates around the world, and while the in-app options vary from place to place, the general concept is the same everywhere. There are a few reasons that ride-on-demand apps work so well for travelers. First, it eliminates the need to carry local currency. Second, you don't have to speak the same language as your driver to get to where you need to go. Third, there's no haggling. If you don't want to give Uber your business for one reason or another, do a search for other ride hailing apps or taxi apps that operate in your destination.
11) Flush – Best for public bathroom finder
Listen, shitting your pants is not a good look. Download this public bathroom finder right this second before you ruin your perfectly-planned vacation outfit. You can thank me later.
But seriously, Flush is as self-explanatory as apps get. Just open it, enable location services or type in your location — and voila, all the public bathrooms near you are listed and pinned on a map, along with logos that indicate whether they are free and disability-accessible. You can even add new public bathrooms to the app if you're feeling like an extra good Samaritan. Who knows? You could save someone from embarrassing themselves.
12) Trail Wallet – Best for Trip budget
Budgeting is difficult enough, let alone budgeting in a foreign currency. Many apps try to help with personal finance, but only a few offer features that help convert budgets and spending back-and-forth between local and foreign currencies with ease. Trail Wallet is among the few that does. Trail Wallet is built by full-time travelers and road-tested by thousands of travelers, and it's probably the most intuitive and user-friendly app of its kind — at least among the ones I've tested. A cartoon assistant sets you up and walks you through the app, kind of like a video game. Once you're in, you can set a daily budget and track your spending by the week and by categories. It makes converting currency easy, too — all you have to do is tap your screen while you're in the app's dashboard. You can also switch between currencies as you document your spending. You can track your first 25 transactions for free; after that, it takes a $4.99 one-time purchase for unlimited tracking.
13) Meetup– Best for get together
Great minds think alike, and they get together with the help of Meetup. Maybe you're looking for a fellow photographer to capture the beauty of the city you're visiting, maybe you want to join in on a protest while you're around, or maybe you're just looking for an open mic or a stand-up show for fun. In any case, Meetup will help facilitate that.
14) Windy– Best for weather forecast
Whether travelers plan to fly, drive or commute, the weather is of utmost importance when planning a trip. Find out the latest weather conditions with the highly accurate Windy app that is loaded with information and features.
15) PackPoint – Best for packing lists
A delight for anyone who hates packing, PackPoint tells you exactly what to bring. First, enter where you're going, when, and for how long. Choose business or leisure, then select the types of activities you'll be doing. The app develops a list based on the information you provided, plus the expected weather. Check items off as you pack, or swipe to remove ones you don't need.
16) Waze – Best for traffic and other road issues
Do you need both Google Maps and Waze? Possibly, depending on where you travel. In some cases, one navigation app could work better than the other. And with Waze, the focus is always getting you to your destination with as little hassle as possible. Google Maps works similarly, but Waze users actively report traffic delays and other issues, which can help you get to your destination easily.
17) FlightAware – Best for flight traffic
Wondering if you're going to make that connecting flight? Look up real-time flight traffic with the FlightAware app and see where a specific flight is at any given time. Having this sort of updated information can help you make informed decisions concerning flight delays, cancellations, and rebookings.
18) Hostelworld – Best for hostel booking
The Hostelworld app has does all the usual things you'd expect an accommodation booking app to do — searches, descriptions, filters — and looks particularly good while doing so. The full-screen interactive map makes it easy to work out whether the hostel you like is anywhere near where you want to be, while those all-important reviews are only a tap away.
19) SoloTraveller – Best for share trips
This widely trusted app lets you make new friends on your trip by connecting you with other solo travelers in your city in real time. It also helps you save money by pairing you people to share taxis, tours, or other travel expenses. You can find a travel mate nearby by searching for people based on age, gender, and interests.
20)  Backpackr – Best for backpackers
Think of Backpackr like Tindr but for solo travelers—the app shows you people with similar interests who are headed to your destination. If you find a match, you can message the person to meet up. The app earns bonus points, in our book, for offering its members deals on hostels, pub crawls, bars, restaurants, and local tours.
21) Eatwith – Best for food tours
Just because you're traveling alone doesn't mean you have to dine alone. The Eatwith app can connect you with locals in more than 130 countries for truly immersive cuisine. From dinner parties to food tours to cooking classes, the app has a variety of culinary events that let you wine and dine with local hosts at your destination. Users can filter food experiences based on dietary restrictions such as vegetarian, vegan, and Kosher meals.
22) Travello – Best for tour mates
A social network for travelers, Travello uses your travel interests to match you with other nomads flying solo. It's designed for a broad range of travelers, including urban tourists, backpackers, and gap-year adventurers.
23) Visited – Best for travel mapping
Have your scratch map and bucket list in one app! Visited is a very cool app that tracks your experiences around the world.
Design your own map with countries you've visited, create your travel bucket list with countries you want to visit, add travel journal notes like dates and memories from your trip.
I love this app, definitely one of the best apps for solo travelers to keep track of your trips. It's motivating to check off countries off your bucket list and go back to see how much you've covered whenever you want. It makes me relive my travels again.
24) Safetipin – Best for travel safety
When someone is travelling alone they need to take care of their own safety as they are in a new place. A safety app can help them to notify the police and their near and dear ones if something is wrong with them.
Emergency SOS is a personal alarm app that sends out emergency notifications whenever a person touches the button.
My Safetipin is an app that has been specially made for women and it tells about the safety score of an area and also alerts if a person reaches an area which has a low score.
Smart 24×7 is an Indian personal safety app that helps to notify close people when someone is in an emergency situation and it also helps to take help from the police. These apps are essential to let people know about your well-being and whereabouts and therefore definitely constitute in our list for best apps for solo travellers.
25) Tripadvisor – Best for travel research
Tripadvisor is a great app for researching where to stay, where to eat, and what to do in an area. Reviews for lodging, restaurants, and activities are gathered from other travelers. It can be a great resource for travel tips and finding must-see attractions in areas you're visiting.
Travel can be a big commitment, which is why it's important to be as prepared as possible for an upcoming trip. With the right travel apps by your side, you should feel ready to embark on your journeys, The best apps are available on both the App Store and Google Play, so it shouldn't matter if you're using an Apple iPhone, a Samsung Galaxy, or another device.
---